For immediate release: 
6PM 12th Night, January 6, 2022, the Societe Des Champs Elysee (SDCE) Krewe den at CARNAVAL, 2227 St Claude, will be temporarily transformed in to the Night Of Joy. Tickets for non-members are $20 in advance/$20 at the door with costume and $25 at door without, and are available at carnavallounge.com 
The theme: A Confederacy Of Dunces Aboard A Ship Of Fools. 
Music by Mid City Aces, Elysian Brass, and 30X90 Blues Women. Special appearances by Big Chief Kevin Goodman & the Flaming Arrows and Al "Carnival Time" Johnson. 
This past year, SDCE kept busy feeding the hungry and tempest tossed, and continues to bring hot meals and dry goods on Wednesdays to the camp at Calliope, and, will hold a Kings With Gifts drive again this upcoming holiday season to bring some holiday cheer and warmth to the tent dwellers under the bridge. 
The 2021 Krewe Of House Floats was a wonderful way to have a COVID safe Carnival. SDCE raised enough money to build the Champs Elysee Free Store and Library, located at 1804 Deslondes. This year, SDCE is putting a Ship Of Fools on the porch at 1205 Elysian Fields, and hopes to raise more funds for feeding the hungry. 
There are a few memberships left for the season. Use the QR code on the Welcome page at SocieteDesChampsElysee.org to join. 
Our Royal Courts 
2017 Rhea & Cronos Chuck & Janis Rogers Beginnings 
2018 Stanley & Stella Tiffany & Kevin Eyer Streetcar Named Des Eyers 
2019 Hyperion and Theia Jen & Matt Johnson Making Groceries on the Champs Elysee 
2020 Tethys and Oceanus Joann & Lisa Guidos Titanic! 
2021 Phoebe & Chaos Gary & Judy Vitrano We Are The Champions 
2022 Mr. & Mrs. Gus Levy Gary & Judy Vitrano A Confederacy Of Dunces Aboard A Ship Of Fools
Our royals for 2022-  
It was four years ago when Gary and Judy Vitrano wandered into Buffa's on Twelfth Night and came upon the pageantry and madness of the Societé Des Champs Elyseé's annual celebration. They knew immediately they wanted to be a part of the Krewe. They began attending Krewe events and were granted membership the following year. They have been active members ever since participating in the St. Marks feed the hungry program, all Krewe events and Judy currently serves on the board as the Treasurer. They were thrilled to be chosen as our royalty for 2021, King Coeus and Queen Phoebe.  
Gary and Judy have always been friends – they grew up across the street from each other in Metairie. They have been happily married 31 years and have two grown daughters, Shannon and Camille, who are also Krewe members. They raised their family in Old Jefferson but moved to the Marigny 3 years ago and are thoroughly enjoying their empty nester lifestyle.  
Judy attended Archbishop Chapelle High School and received an undergraduate Business degree and an MBA from the University of New Orleans. She has worked at Tulane University for 30 years and currently serves as the Associate Vice-President of Institutional Budgets & Planning. She loves attending festivals, Saints games, dancing and costuming. She has a wig and head piece collection, a full line of glitter make-up products and an array of tutu's.  
Gary attended Archbishop Rummel High School and was an avid wrestler. He attended LSU, UNO and Tulane. He has a degree from Tulane in Environmental Biology but has taken a number of courses in architecture, fine art and photography. He initially worked professionally as a graphic designer for WYES and Pan American Life but is currently a Biologist Manager for the La. Wildlife and Fisheries Department. He is an accomplished artist and enjoys creating mixed media art pieces. He is truly a renaissance man. 
The Societé des Champs Elysée is a Social Aid and Benevolent Krewe dedicated to the betterment of the neighborhoods along the cross formed by the Elysian Fields and Saint Claude/ Henriette Dellille, and thus, the world. SDCE is a 501(c)7 non-profit corporation. 
For more information: Captain@societedeschampselysee.org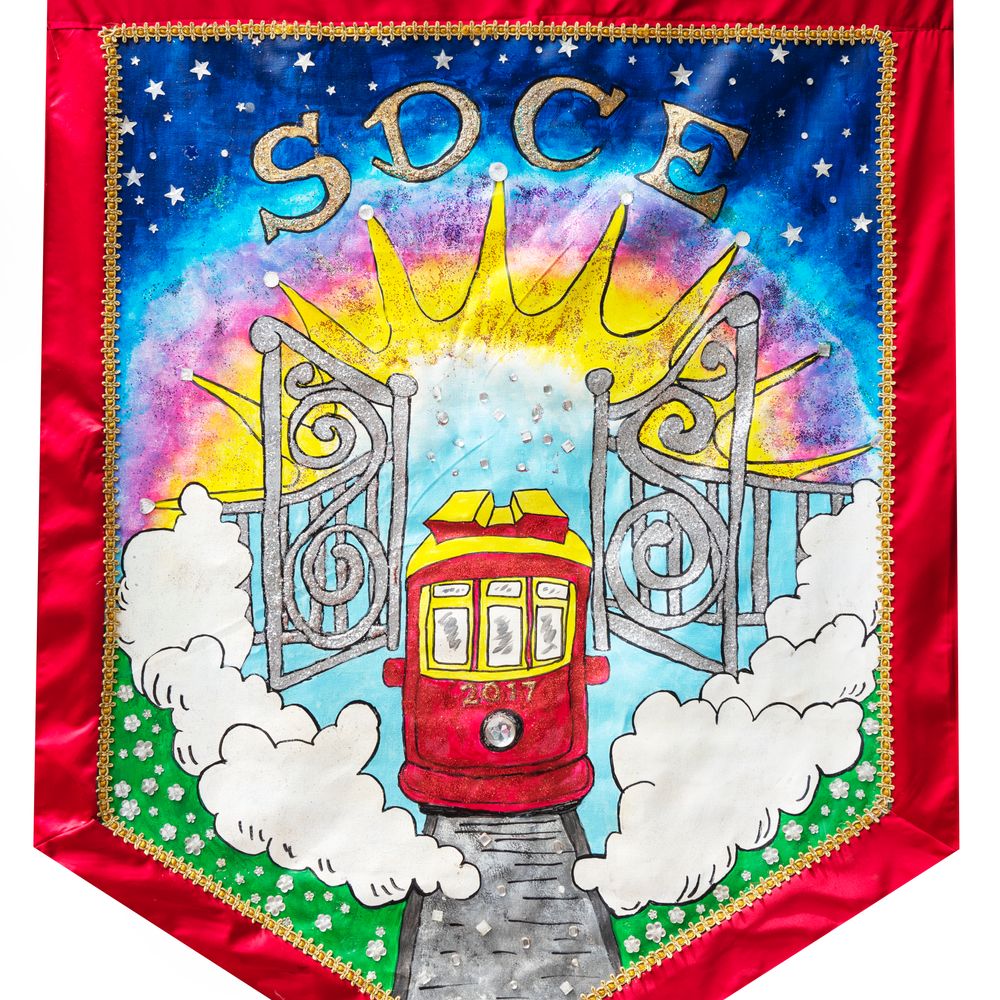 Full Moon Halloween Flash Mob Parade
Saint Claude Avenue
SDCE, Queen Reecie Harrison, Kevin Goodman & theFlaming Arrows gathered in the mutual ground by Mandeville and St Claude sunset Oct 31 at 6:13pm. We departed 6:38pm- the end of civil twilight.
We passed by Carnaval, the street car, Roberts, Kajuns, and Arabella. Reverend Doctor Cory Sparks and Queen Reecie gave us a roadside blessing.
We honored the dead in our own small way. We held no big bash before or after.
Flash mob rules. We did the circle, and dispersed.
Watch this space for news for 2021
Holiday Cheer 
Tis the giving season, and SDCE is in a holiday mood. We are collecting gifts for 50 or so, of our friends in the Calliope.
The List- check it twice! Candy, Jerky, Dried fruit, Socks,  Blank book and pen, Batteries, Pen lights, pen knife. chap stick. small packs of wipes or tissues, canned goods w/ez lid, Camping gear, hoodies, scarves gloves, Caps. Something frivolous a homeless person might want. Boxes, tape. wrapping paper. 
We will also be bringing water, oranges, and nut bars or pizza weekly to the Calliope. 
We are donating $250 to Southern Solidarity, who feed homeless camps all over the city. They are in need of drivers, and people to cook from home and/ or divvy up hot plates. 
We have given St Mark's $500 for their gift boxes for their homeless outreach. 
We are passing $500 to Laura Paul and Lower9.org along with our congratulations on their opening a real brick and mortar pantry. In the coming year, they will need our help with food distribution as well as laboring in their home rebuilding program.
1035 Marigny NOLA 70117. paypal@societedeschampselysee.org